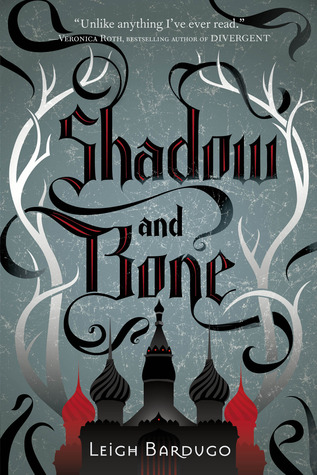 Summary from Goodreads:
The Shadow Fold, a swathe of impenetrable darkness, crawling with monsters that feast on human flesh, is slowly destroying the once-great nation of Ravka.

Alina, a pale, lonely orphan, discovers a unique power that thrusts her into the lavish world of the kingdom's magical elite—the Grisha. Could she be the key to unraveling the dark fabric of the Shadow Fold and setting Ravka free?

The Darkling, a creature of seductive charm and terrifying power, leader of the Grisha. If Alina is to fulfill her destiny, she must discover how to unlock her gift and face up to her dangerous attraction to him.

But what of Mal, Alina's childhood best friend? As Alina contemplates her dazzling new future, why can't she ever quite forget him?

Glorious. Epic. Irresistible. Romance
Do you ever finish a book and wonder if you read a completely different version of it from everybody else?  Because that is 100% how I feel about Shadow and Bone.  The series finale was recently published and my Twitter feed blew up over how AWESOME the Grisha series was and what a strong character Alina was.  I'm sorry, but I don't get it.  At all.
Alina is sassy and I liked that, but she has absolutely no wherewithal of her own.  She is told she has Grisha powers and must go train so she can help save Ravka.  So she does.  She is told The Darkling, who she has intuitively trusted and even begun falling for, is up to something evil and she must escape him.  So she does.  The about-face in The Darkling's character (I guess that was the big twist everyone talked about?) was abrupt and confusing and I didn't buy it.  The book would have been much much stronger if Alina found this out for herself, instead of being told it.  Show, not tell and all that.  I was also hoping The Darkling would be a more nuanced character.  You know evil, but contrite or evil with a moral code or something more than just plain evil.
For all my complaints about Alina and The Darkling, I was compelled to finish this book.  I wanted to know what happened and was sort of invested in the world-building (the creatures in The Fold were quite intriguing).  But the flimsy characterization was enough to convince me that I should probably not continue on with the series.