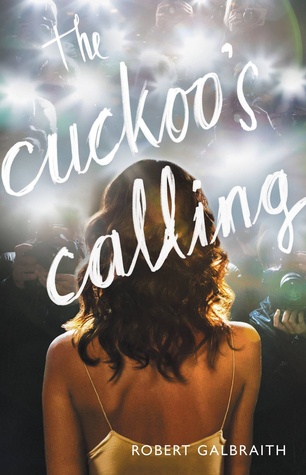 Supermodel Lula Landry falls to her death from her third-story balcony.  The police rule it a suicide, but Lula's brother, John, is not convinced.  He hires the down-and-out private detective, Cormoran Strike, to investigate her death, insistent that Lula was pushed.  Strike is down on his luck, having just ended a relationship and being in debt up to his ears.  While he isn't sure there is anything worth pursuing in the Lula Landry case, he need the big bucks John is going to pay him and feels compelled to delve a little deeper, so he accepts the case.  Things are, of course, not like they seem in Lula's life or death.
I have no idea if I would ever have considered reading this if it weren't for the fact that Robert Galbraith=J.K. Rowling and I'm sure that colors my feelings on this story, as well.  But I loved this book.  Namely, I love Cormoran Strike.  He's a former army investigator, but since losing most of a leg in Afghanistan has been trying to eke out a living as his own boss.  His life is a total mess as this story starts.  His turbulent relationship with his fiance is finally over and he's homeless and nearly penniless.  He's been sleeping in his office, where he receives both weekly death threats from a crazy past client, and daily calls from his creditors.  He only has one client and her case is almost over.  And Strike isn't exactly dealing with these hits gracefully.  He's a bit sullen, slow to warm up to people.  But somehow Strike is also an incredibly charming character.  He's very intelligent and knows how to get people talking.  He's a bit scarred from a difficult childhood, but this seems to serve to make him more accepting of people, particularly the downtrodden.
Also noteworthy is Strike's temporary secretary, Robin.  Robin is sharp and harbors a secret longing to be a detective herself.  She is clever and discrete enough to deal with really sticky interpersonal situations and is queen of Google.  She and Strike get along intuitively it seems and come to share a mutual admiration and affection for one another.  Their relationship is fun to watch develop and Robin scenes were always some of my favorite.
As for the plot, it was a fairly usual murder mystery.  Suspects abound.  Witnesses are lying or evasive or end up mysteriously dead.  But I wasn't clever enough to guess the killer in the end and that always makes for a more satisfying mystery story.
I listened to this on audiobook and just wanted to mention that the narrator, Robert Glenister, was fantastic.  A lot of this book is dialogue with both male and female characters with all sorts of different accents and Glenister pulled it off.  The narration definitely contributed to my enjoyment of the story to the point that I plan on reading all of the books in this series on audio (already started The Silkworm audiobook, in fact).
If you like a good mystery with a gruff, but loveable detective (I'm thinking the TV show, House, here), this book is right up your alley.  Strike and Robin are a great duo to follow as they try to unravel the truth of what happened to Lula Landry.