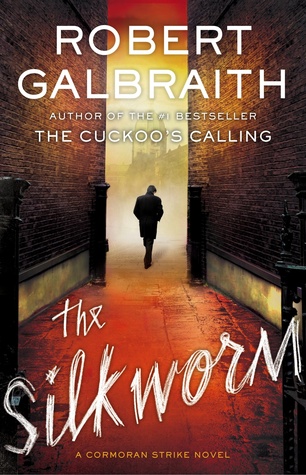 If you read my review of The Cuckoo's Calling, you'll already know that I really enjoy the Cormoran Strike series.  In fact, I liked it so much I immediately started The Silkworm after finishing the first novel and am eagerly anticipating future installments in this series.
The Silkworm was even better than The Cuckoo's Calling.  Mainly because we get to see the relationship between Strike and his assistant, Robin, develop more.  Robin shows a real interest and aptitude for investigative work and Strike, after some initial hesitation and a bit of a blow-up between the two, starts giving more responsibility to Robin and mentoring her.  I love seeing the two of them work together and the fondness they have for one another is so nice to see in a platonic and professional male-female relationship in fiction.  Getting to know more about Robin was definitely a highlight.  Her friendliness and ability to set people at ease is a great complement to Strike's harsher, grumpier demeanor.
As for the plot, The Silkworm involves the investigation of a missing author.  Owen Quine has been known to disappear before, but his wife is starting to worry.  Strike soon discovers that Quine has left shortly after the manuscript of his latest novel, Bombyx Mori (the Latin name for silkworm), gets out.  It is inflammatory and smears everyone from his wife to his girlfriend to his editor, agent, and publisher.  Soon Quine is found murdered and the investigation ramps up, as the police focus in on Quine's wife, whom Strike is convinced is innocent.  Strike, once again, has to set out to prove the police wrong by finding the real killer.
Another thing that set this book apart for me from the first book was that it felt a lot more literary… most of that is because the victim was an author and his work is prominent to the crime.  But the crime and the quotes at the beginning of each chapter and the bits and pieces of Bombyx Mori are all very steeped in Elizabethan/Jacobean literature.  I am not super familiar with this stuff, but I did read The Faerie Queene my freshman year of college and having that background gave me some grounding for the heavy-handed allegory and symbolism of Bombyx Mori.  I also remember it being very vividly gross and violent, but I might be thinking of something else I read way back in Brit Lit Before 1700 so, forgive me.  But anyways, I really enjoyed the literary atmosphere and how the mood of this story echoed the literature it referenced.
Anyways, I can't recommend this series highly enough for fans of detective novels.  Strike and Robin are delightful characters and the mysteries are twisted enough that they truly keep me puzzled until the end of the books.  I, for one, will be devouring every book in this series… can't wait to see what happens next!