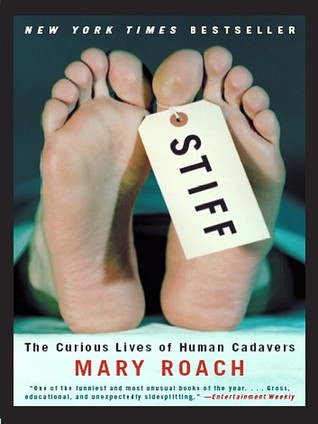 I have been meaning to read this book since I started this blog and I finally got around to it, using it for the microhistory portion of the Read Harder challenge.  (Though, now that I think about it, this was only kind of history and more pop science, but whatever, I'm counting it for a category that seems kind of arbitrary to me anyways.)
So… Mary Roach is a journalist with a focus on science who decided to write a book about allll the various things that can happen to a dead human body.  She covers the role of cadavers in medical education and the history of anatomical dissection, as well as the role of cadavers in other science research/practice (criminal forensics, car safety, gun/explosive safety, organ donation).  While her focus is more on the extreme things done with human bodies, she does talk briefly about decomposition of dead bodies and funereal options for dead bodies– embalming, burial, cremation, and some of the newer, greener ideas such as body composting.  She also dabbles in the super extreme, spending some time talking about bodies used in religious experiments (trying to prove that the Shroud of Turin was authentic) and even goes so far as to spend way too much time talking about cannibalism.
This was an interesting subject, but if you know me you know that I have an academic background in the history of medicine and that I kinda dig reading books about death or history of medicine (see my reviews of Smoke Gets in Your Eyes or The Immortal Life of Henrietta Lacks).  I came into this excited to learn something new.  However, I spent the first several chapters rehashing or reviewing information that was not at all new to me.  For example, the history of medical dissection and body snatchers is not new to me because of stuff I read in grad school, body farms are not a new concept to me as I used to read/watch a lot of crime fiction/TV, and Doughty covers what happens to bodies in funeral homes in greater detail in Smoke Gets in Your Eyes.  The later chapters provided new information and I was interested in the use of bodies in scientific research, organ donation, and thought some of the ideas for new ways of disposing of dead bodies were pretty interesting, too.  But Roach lost me when she gets to the most extreme and rare examples of cadaver use– religious research and as food/medicine.  In particular, the cannibalism chapter seemed designed to push the reader to the limits of squeamishness (and dead bodies don't really squick me out, so this was certainly a bit much) and just involved Roach investigating a bunch of bogus stories without finding any real actual evidence of people eating their dead in contemporary society.
I did enjoy learning some new things about what happens with dead bodies and I did enjoy that Roach really plugs for body donation and organ donation– options I am pretty firmly set on for my eventual dead body– and options which get some odd reactions from people.  (You know if you donate your body to science, people will see you naked, right?  Umm, yeah, they see you naked when they embalm/cremate you, too.)  I had always figured on cremation as my back-up option, but hearing it has such negative environmental effects has made me think on that a little more, too.
There were things that really bugged me about this book, though.  Namely, Roach's tone and style.  Roach tries to inject humor into her analysis and it wasn't very successful for me.  I kind of wondered if the narrator on the audiobook was just not delivering the punchlines successfully, but I think the jokes just weren't that funny.  Also the tone of this book is very… pop-journalismy, if that makes sense.  I do prefer my non-fiction not be stuffy and dry and this wasn't stuffy or dry, but it just bordered on too unserious and too casual for my tastes.  And perhaps this last complaint is related to the style of the book, but there were areas where I wanted Roach to push further and she just didn't. She seemed far more interested in trotting out extreme or gross examples of what happens to dead bodies than in actually talking about anything in real depth.
Anyways, I'd recommend this to people who want more of a gross out, wow example of what happens to dead bodies, people without a whole lot of background knowledge of the subject. I guess I'm just not the average Joe when it comes to dead bodies.