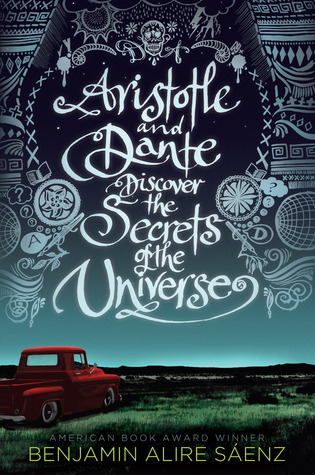 Summary from Goodreads:

Aristotle is an angry teen with a brother in prison. Dante is a know-it-all who has an unusual way of looking at the world. When the two meet at the swimming pool, they seem to have nothing in common. But as the loners start spending time together, they discover that they share a special friendship—the kind that changes lives and lasts a lifetime. And it is through this friendship that Ari and Dante will learn the most important truths about themselves and the kind of people they want to be.
I hate when I wait too long to review a book.  I LOVED this book while reading it, but my impressions are pretty faint almost two months later.  Ari and Dante are really great characters and the friendship that develops between them is intense.  I was especially impressed with the relationships Ari and Dante had with their parents.  The parents in this book were awesome.  They weren't perfect people, but they loved their children.  The scenes with Ari and his mom were some of my favorite– they were funny, but the love between the two was apparent.  The writing was beautiful.  I also really liked the setting of El Paso.  I realized I don't read many books set in the desert and I am a bit of a desert girl, so it was nice to find one that reminded me of the dry heat and summer monsoons.  I don't want to spoil anything, so I'll just say that the ending of this book challenged me a bit, but in a good way.  I like leaving a book having to process some things.
Anyways, if you are fan of coming of age books, I'd highly suggest this one.  Excellent writing, setting, and characters.