I am trying to wrap up my 2014 reviews by posting some mini-reviews for things I neglected to review in full.  This is the romance novel edition.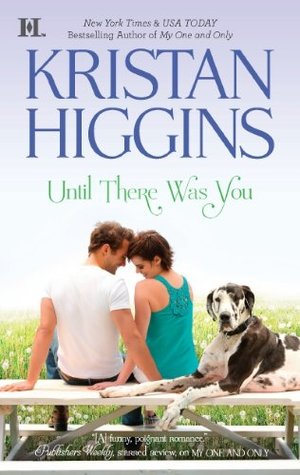 Until There Was You by Kristan Higgins
Kristan Higgins writes fun, cute, breezy romance novels.  In this one, we have Posey, who has always been a bit of a wallflower, and Liam, the boy she had a crush on all through high school.  Liam has recently moved back to town, a fairly recent widower with a teenage daughter in tow.  Liam was a total bad boy in high school and builds motorcycles for a living.  He's grown up, but is still gorgeous with a bit of an edge– with the exception of his overprotectiveness when it comes to his daughter.  Posey is skinny and boyish and makes her living scavenging old homes for her architectural resale business.  She's adopted and her family is crazy, but in a loving way.  Liam and Posey are attracted to one another, but their complicated past gets between them.
What I liked: the ridiculous side characters– for example, Posey's brother is a surgeon obsessed with amputations and her cousin hosts a cooking show called The Barefoot Fraulein, the animals (always a plus in Higgins)
What I felt meh about: Posey and Liam as a couple– too much baggage, too many differences between them for me to really buy their romance, Liam's overprotectiveness– men obsessed with their daughters' virtue drive me crazy
All in all: I will read Kristan Higgins again, I'm sure, but wouldn't recommend this one unless you're better at suspending your disbelief than I am.
Wild Child by Molly O'Keefe
Monica has returned to her hometown in Bishop, Arkansas (holy cow, a book set in Arkansas) to begin writing her next tell-all book, this time about the night her mother shot her drunken, abusive father in self-defense.  Monica is a bit of a wreck, having survived an incredibly unstable childhood and a wild, drug-fueled adolescence, much of it televised on a reality TV show her fame-whore of a mother landed them on.
Jackson is the mayor of Bishop and feels completely shackled by the responsibility on his shoulders– an economically failing town and the teenage sister he is rearing.  He dreams of freedom, namely in the form of random sexual encounters with women, and getting the heck out of Dodge.
Jackson lands Bishop a spot on a reality TV show, competing as the best town to house a new cookie factory.  Monica's notoriety can only help his cause.  The two get involved with one another– both in saving Bishop and in a romantic way.  But the buckets and buckets of emotional issues make theirs a bumpy road to falling in love.
What I liked: the love story between two pretty messed up people, O'Keefe pushes the boundaries of the romance genre- flipping some tropes around on us, the small town setting
What I felt meh about: I mostly really liked this one, but I don't think there was anything tipping the scales into omg awesome for me
All in all: I have already checked out another book by O'Keefe from the library.  This is smart genre romance and that's something I can't get enough of.
Believe by Erin McCarthy
Robin is a college student who parties.  Hard.  That is, until she wakes up after a night of drinking to find she slept with her roommate's boyfriend.  She swears off drinking and partying, not liking the kind of person she becomes when she does.  Phoenix is fresh out of jail, broke, and sleeping on his cousins' couch.  Robin and he meet at the cousins' house and find one another really refreshing to be around.  There's no judgment, no expectations, no pressure.  They quickly fall in love with one another with their past indiscretions lurking in the background, ready to make things difficult.
What I liked: Erin McCarthy's writing, that the characters were getting second chances
What I felt meh about: Phoenix and Robin declare their love way too soon, especially since they are both supposed to be so damaged by their pasts; Phoenix seems far too nice to have the anger management problem he supposedly has; Phoenix tattoos Robin's face onto his body after knowing her for a month- INSANE
All in all: Enh.  I liked it enough to read it, but it was silly and cliched.  This author is really hit and miss for me.  Not sure I want to keep trying with her any more.