It happened again.  I get on such a roll with my reading that I completely neglect writing reviews and so… mini-reviews!  These were both books I thought were ok, but you know, they didn't leave strong, lasting impressions…
Revolver by Marcus Sedgwick
I found this at my library book sale and having enjoyed Sedgwick's writing in the past, decided to give it a try.  Sig lives in early 20th century Sweden up in the Arctic frontier, where they is iron mining going on.  His dad dies under mysterious circumstances and when his stepmother and sister go to town to get someone to take care of Sig's father's body, Sig stays home in his isolated cabin alone.  And then a mysterious and frightening stranger comes to the door.  With a gun.
What I liked: Sedgwick's writing, the unusual setting, the low page count
What I felt meh about: pretty much everything else, it should be a tense book as there is a gun pointed at someone for nearly the whole thing, but really I wasn't that interested in the plot or the characters, it was boring
All in all: I keep hoping I will find a Sedgwick book that really clicks for me.  This wasn't it.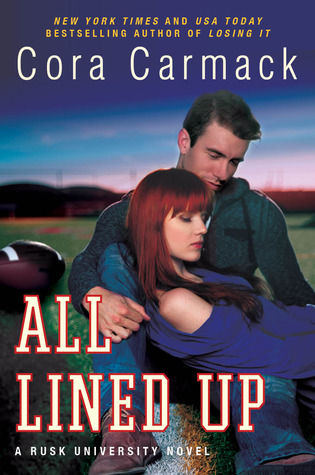 All Lined Up by Cora Carmack
Dallas Cole is a dancer and freshman in college.  Oh, and her dad is the football coach at her Texas college.  One night at a party, she falls into the arms (literally) of Carson McClain.  The two hit it off immediately.  But Carson is a football player.  And a walk-on at that.  He doesn't have time to get distracted by romance.  Especially a romance with the coach's daughter.  Dallas has no interest in repeating her past experiences and wants to stay as far away from football and football players as she can.  But she and Carson start to casually hang out.  And things slowly heat up between them.
What I liked: super cute romance, set in Texas, felt like a truthful portrayal of being a coach's daughter and the college freshman experience, FOOTBALL
What I was meh on: less steamy than I expected based on my previous experience with this author's work (though it was appropriate to the characters)
All in all: Cute football romance.  Cora Carmack is great at this New Adult stuff.