I have been a bit of a delinquent blogger lately (shock, gasp).  And well, I have been behind on reviews by almost two months for two months with little hope of ever catching up.  Mostly, I can't remember enough about the books to write full reviews.  SO.  Mini reviews.  Because I am really trying to review most of what I read this year because I hate when I don't have at least a sentence or two of what I thought about a book to look back at.
She is Not Invisible by Marcus Sedgwick
Laureth is 16 and blind and the daughter of a famous author who has gone missing.  Laureth kidnaps her 7 year old brother, Benjamin, and flies to New York City to search for their father, following the sort of trail he has left behind in his journal.  Laureth's father is obsesssssed with coincidence and finding meaning in coincidence, so that is a big part of this book, too.
What I liked: the writing, Laureth, seeing how a blind person navigates through life, the fact this is a book that can be read in a day or two
What I felt meh about: the ending was totally blah, the obsession with coincidence was sort of interesting, but pointless and felt a bit shoehorned into the story at points
All in all: I would like to read more Marcus Sedgwick.
The Murder at the Vicarage by Agatha Christie
This is the first Miss Marple novel and it was available for free through SYNC summer audiobooks.  I'd never read Agatha Christie before, so I thought I would give it a whirl given that I've been a mystery fan most of my life.  Colonel Provero is murdered at the vicarage and the vicar (our narrator) gets wrapped up in trying to solve the murder of a victim who most everybody in town has motive to murder and to which a couple different suspects confess.
What I liked: Miss Marple is hilarious and I wish she got more screentime.  Actually, a lot of the characters were unintentionally hilarious and very very British.  I did not guess the murder suspect correctly, which is kind of astonishing because I have a problem with guessing the endings of mysteries.  Also, great narrator, but I always like a book narrated with a British accent.
What I was meh on: In a way this felt a little too textbook murder mystery, not exactly special.
All in all: I'd read Agatha Christie again… if only for more Miss Marple!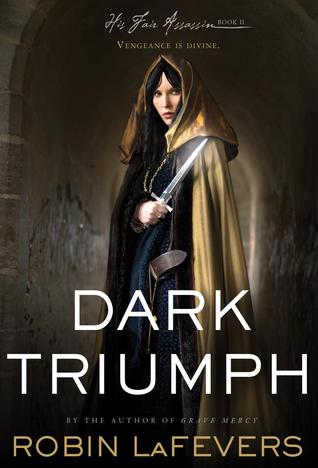 Dark Triumph by Robin LaFevers
I read Grave Mercy last summer and really enjoyed it (to my surprise), so when Dark Triumph was on sale for Kindle, I jumped on it.  Sybella has a dark past, brutally abused by her father and brothers, but found sanctuary and a purpose at the convent of St. Mortain.  The Abbess, however, send Sybella back into the fray, badly wanting the information Sybella can gather as a member of her powerful father's household.  It is from her father's household that Sybella rescues a prisoner, Beast, a legendary warrior who is an essential member of the Duchess's forces.  The two must make it to the Duchess in time, in order to save Brittany from the growing threat within and without.
What I liked: I really enjoy the political intrigue in this series and appreciated that this was a little darker in mood than Grave Mercy.  Beast is the right kind of romantic lead for me.  And I liked that Sybella and Beast were both foreboding killers with dark pasts, but still had hope/love within them.
What I was meh on: I love these books while reading them and then quickly forget everything about them.  I usually want something with a bit more staying power.  I was also a bit concerned with the fact that Beast kept swooping in and literally knocking Sybella out to get her to cooperate with his decisions.  It is true that Sybella was going to make stupid decisions, but the use of force bothered me.
All in all: I will most certainly be reading Mortal Heart when it releases.