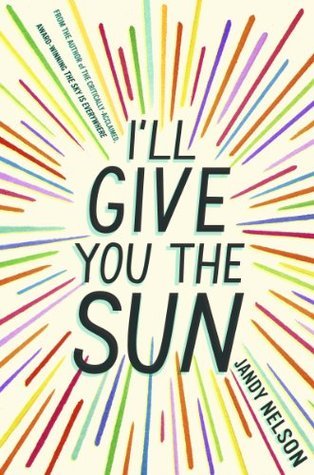 I'll Give You the Sun by Jandy Nelson
I'll Give You the Sun is told in alternating narratives by twins Jude and Noah.  Noah's point of view focuses on the summer the twins are 13.  Noah and Jude are very close, but starting to grow apart.  Jude has fallen in with the cool kids and fights constantly with their mother about clothes, makeup, and boys.  Left to fend for himself while Jude hangs out with her new friends, Noah is super uncomfortable in his skin and is obsessed with getting into the private arts school, hoping that it will finally be the place where he fits in.  He draws or paints constantly, if not on paper, in his mind.  This summer is also the summer he meets Brian, another slightly weird kid he develops a deep, intense, immediate understanding and friendship with.  More than that, he begins to realize he is attracted to Brian romantically and the potential rejection and weight of his longing overwhelm him.
Jude's narrative occurs three years later, when the twins are 16 and their lives are drastically different from what we would have expected.  Their mother has died, but her presence is felt everywhere.  Jude is the one who got into art school, not Noah, and she has no friends and lives in this isolated world of her own creation, haunted by the ghosts of her mother and her grandmother and obsessed with her grandmother's "bible" of old wives' tales.  Noah has grown into his own, runs track at the public school, and has tons of friends.  Jude worries he's become the normal one.  In a quest to get her art school career back on track, Jude seeks out a reclusive local sculptor.  The sculptor and his troubled British assistant/surrogate son hold the key to breaking through Jude's grief and starting the healing process between Jude and her brother.
What I liked:  Whoa.  This book totally got under my skin in a way I did not expect it to.  I loved the writing style, though I imagine the writing skates the line between beautiful and purple, so not everyone will love it.  Nelson writes very metaphorically, which at first turned me off.  I set this book down for a few days and when I came back to it, knowing what I was getting into, I was hooked.  Nelson created such rich imagery that I was really taken in, particularly with Noah's story.  Everything was just so colorful.  I was very invested in Noah's love story, as well.  It was so wonderful to see Noah find someone he clicked with, someone that made him so happy.  And it was just as heartbreaking to see Noah and Brian pushing their feelings for each other away.  And it was exhilarating when they finally (FINALLY) get their chance together!  I also really appreciated Nelson's depiction of grief, as well as the weight and tension that lies and secrets create in Jude and Noah's family.  There is so much unsaid, so much silence after their mother dies.  If I was a person who said "the feels," you could say that this book gave me "the feels."
What I felt meh about:  I had a much tougher time with Jude as a character than I did with Noah.  She is in the thick of her grief, which takes some really weird forms, and it was hard to want to spend time with her.  Even with that creating some hesitation for me, I could mostly deal with Jude's story, because it is about healing and redemption, but her romance with the British guy was my absolute least favorite part of this book.  Jude's romantic storyline felt forced, shoved in by someone in marketing so that you could sell this book to teen girls who won't read a book without a straight male to swoon over.  So to fill that quota, Nelson wrote in some bad boy turned good British hipster that hits about every stereotype on the swoony guy for teenage girl checklist.  Nothing felt right to me about Jude's love story and that was even more obvious because of how well-done and beautiful Noah's love story was.
All in all:  I was pretty much blown away by this book in terms of the writing style and the emotional depth.  I'm eager to read Nelson's other book, The Sky is Everywhere.  I'd recommend this to fans of contemporary and coming of age stories, but I'd say be sure to check out a few pages of the writing before committing.  I know this writing style is unique and won't be everyone's cup of tea.