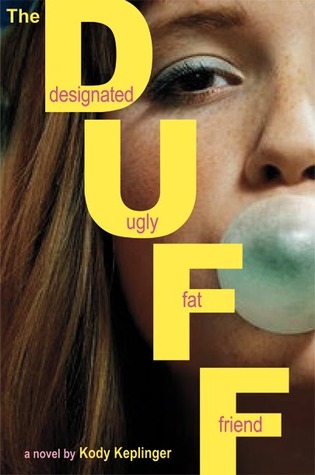 Bianca loves her best friends, but isn't interested in dancing at the under-21 dance club in their home town.  While watching her friends have fun on the dance floor, notorious womanizer, Wesley, comes over and informs Bianca that of her friend group, she is the DUFF: the designated, ugly, fat friend.  This gets under Bianca's skin because, like any high school student, she is a little bit insecure.  Anyways, things kind of blow up in Bianca's home life and somehow she finds that her only way to deal with it is to find some moments of escape in sex.  With Wesley.  Wesley, who is actually a better listener and friend that Bianca gave him credit for.  But Bianca doesn't believe in love in high school and certainly not in love with the guy who gets around the most out of their whole class.  So where on earth can this "relationship" take them?
I'd heard a lot of good things about this book, which is why I picked it up in the first place, but I still kind of feel surprised by how much I liked it.  The story reminded me of being in high school more than any other YA books I've read.  Bianca's life is not just her parents getting divorced or her fooling around with Wesley.  She's got schoolwork and friends.  She isn't popular, but she's not an outcast, even though she feels that way some of the time.  Mostly, she's happy and comfortable with herself, but sometimes she wonders if she isn't the DUFF and worries about what other people think about her.  Basically, she's a normal teenager.  And a pretty likeable, interesting one, at that.  She is cynical, but smart and funny and loyal to her friends.  She doesn't exactly have the best coping skills when it comes to some of the problems in her life, but she's 16 and human and that makes sense.
As for the romantic plot, it's nothing new,  just an enemies become lovers plot, but the depth of the characters, particularly Bianca, made for a fun romance.  I liked Wesley, sort of in spite of myself, and as much as I agreed with Bianca that he was probably bad news, I couldn't help rooting for them to work it out, for Wesley to settle down on just one girl.  There is also a point where Bianca gets caught in sort of a love triangle, as Toby, the sweet, nerdy boy she has crushed on for 3 years, suddenly notices her and as she tries to disentagle herself from whatever is going on with Wesley.  I found that I liked Toby, too, and was kind of sad that there was so little chemistry between him and Bianca.  Also refreshing, plot-wise, is that teenagers have casual sex in this book and nothing bad happens.  It's really not even a big deal.
I only had one complaint with this book and that is that the home stuff wrapped up a bit too easily.  Bianca's father is a recovering alcoholic who has a relapse and even shows a violent temper as a drunk.  But he seems to bounce back to recovery pretty easily.  Bianca's mother has been traveling across the country for years doing speaking events, but after she files for divorce, she suddenly seems to want to connect to and be present for the daughter she's been ignoring and absent from for so long.  And Bianca accepts that.  These are all big things and the solutions seem a little more simple and drama-free than they'd actually be in real life.
All in all, I really enjoyed this book and wish it had been around when I was a teenager.  There is something about the plot and characters that resonated strongly with me as an adult and would have had an even bigger impact on me as a teen.  I imagine this would have landed on my short stack of books that I reread for comfort from time to time.  As it stands, this was absolutely worth my time and I would recommend this as a YA book with appeal to both teens and adults.