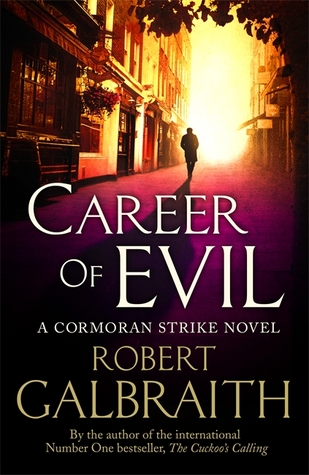 This is the third book in the Cormoran Strike series, so there are probably spoilers in here for the previous two.  If that is a thing you care about.
THIS BOOK. SO SO SO GOOD.
Strike and Robin are back, keeping busy with some surveillance cases. One day, Robin receive a woman's severed leg in the post and it is clear this killer has a personal ax to grind with Strike and has his sights set on Robin as his next victim. Strike is quick to identify three likely suspects from his past and when the police don't take his leads seriously enough, he and Robin do some investigating on the side, of course. All the while, the killer is keeping busy, stalking Robin and killing and dismembering his way across London.
Plot-wise, this wasn't my favorite mystery in this series. There are several chapters told from the killer's POV that read like textbook serial killer behavior. He's misogynistic. He puts on a pretty face to his girlfriend. His thirst to kill ramps up over time and he gets clumsier and more desperate as he seeks that kill-high more and more frequently. All of that felt very done before, not to say that the killer wasn't super creepy. It was kind of interesting to see the killer's POV in the story, but again, it's been done before and I guess evil serial killer is just not compelling enough for me any more (I guess I've read too much serial killer stuff).
In addition to the somewhat tired feel of the killer, there are three clear and obvious suspects from the start. While they are all horrible men and I never was certain who was the killer, I was almost able to pull all the pieces together. Galbraith/Rowling is very good at not constructing a mystery in which the answer is obvious to the reader, leaving enough out of the text to leave you wondering and pursuing the truth, but there was such a limited suspect pool for whom we all get extended backstories, it would be impossible to not come up with a theory that touches on the actual solution to the mystery. All that to say, I still cared about the mystery and the killer was dangerous and there were some seriously scary parts with him in them, but really, this book was more about the Strike-Robin dynamic than anything.
There is a serious amount of character and relationship development with Strike and Robin in this installment and Strike and Robin are what make this series as good as it is. The more Rowling that I read, the more I realize that her strength lies in the development of characters, something that was apparent in The Casual Vacancy, but is especially satisfying in the Cormoran Strike series. Robin is amazingly likeable– smart, strong, principled, and wickedly talented at detective work. And I have a weak spot for Strike– he's exactly the kind of gruff, intelligent hero I can't get enough of and his interactions with Robin are always the highlight of these books. I was kind of blown away by how much I liked seeing the two of them together in this book– there were a lot more opportunities for a new kind of intimacy to develop in their relationship. This book is the first time that Strike and Robin really acknowledge that they are friends and confidantes, that their relationship is more than strictly professional, and that there might even be more than platonic feelings between them.  I don't want to say too much, but this is the first time I've really seen Rowling write sexual tension and go figure, she's amazing at it.
The final chapter left me with my mouth hanging open. I have no idea what actually happened there and I'm sure it will be at least another year before I can find out. More Strike, more Robin, an actual answer to what the heck that last sentence meant–gah, I can't wait. These books are some of my favorites. Basically, everyone needs to read them and love them as much as I do.