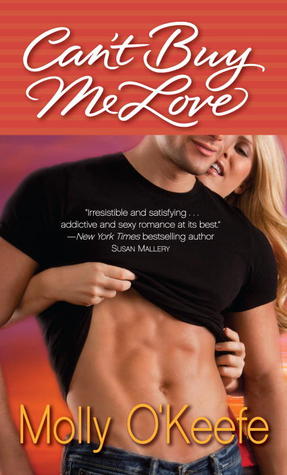 Luc is an aging professional hockey player with a secret brain injury.  His career is everything to him, but then he finds out that his abusive father, Lyle Baker, is supposed to be marrying some gold-digging young woman named Tara Jean Sweet, who has also been running the Baker family business for the last few years.  Tara is a woman with a past she can't quite forgive herself for and can't soon forget.  She's determined not to let anyone or anything get in the way of her second chance at life.  When it turns out the wedding between Tara and Lyle was just a ruse to get Lyle's children home for his dying days, Tara and Luc are forced to reassess each other's motives.  They find they are more than just attracted to each other, but might even, in spite of all their flaws, LIKE one another.
I really liked the first book I read by Molly O'Keefe, Wild Child, and while this one was similar, it didn't quite measure up.  It was similarly gritty and similarly featured characters with a lot of emotional baggage.  Luc has defined himself and his life by his success in hockey and pretty much neglects the toll that it has taken on his body and his brain.  He's not particularly ready to let anyone into his life, particularly if they're going to get in the way of his determination to play one more year in hockey, but he's in a little better shape than Tara.  Tara is a mess.  She has a past littered with bad decisions, regrets, and an awful, abusive, and criminal ex-boyfriend.  She can't forgive herself, doesn't like herself, doesn't value herself.  And that makes it almost impossible for her to let Luc in and to accept that their relationship is more than just sex.  I definitely liked that these were not your average romance novel characters and that they were as much the obstacle in their relationship as any outside force was.
But… this book just felt convoluted.  The plot starts with the fake engagement and some serious I-hate-you-but-you're-hot vibes between Tara and Luc.  Tara doesn't like that Luc abandoned his elderly father and Luc thinks Tara is all about the money.  But then Lyle dies and suddenly the tension about him and his money is out of the way.  Next Luc is made Tara's boss in Lyle's will, but that never really comes to make any difference in the story as Luc couldn't care less about the family business.  And then Tara's ex-boyfriend starts lurking around threatening her and the Baker family and he (as well as Tara's past) becomes the next big obstacle between she and Luc.  All the while, Luc's health and career worries are lurking in the background.  Not to mention there are occasional passages from Luc's sister's POV, setting up for the next installment in the series.  It just gets to be a lot.  Especially as the main element of the romantic storyline is how Tara and Luc are changing in light of the other events going on in their lives and in light of having met someone willing to put up with and love them.  I think all the other stuff going on in the plot distracted from some of the character development, which left the characters feeling blurry; it became tough to grasp their motivations.
All in all, I am interested to read more of Molly O'Keefe's novels, as I really like that she does the gritty romance so well.  Wild Child was much tighter plot-wise, so I am just going to write this one off as a book that didn't quite come together for me.