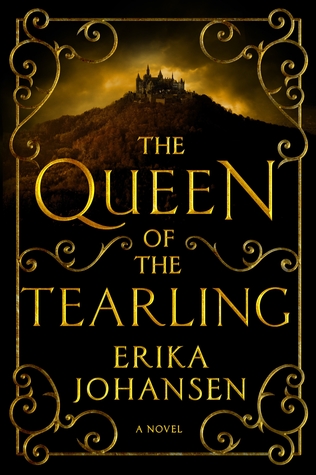 This book was everywhere this summer and more recently too after it went on sale on Amazon.  The reviews I read seemed to be polar opposites– either you love this book or hate it.  So… when I stumbled across the library's ebook copy, I figured I'd try it for myself.  After all, it promised political intrigue and a strong female lead and those are pretty much my keys to loving fantasy.  Funnily enough, I found myself falling in the middle between the two sides– I liked this, but saw some flaws, especially early on, that prevented it from being a truly stellar read for me.
Kelsea has just turned 19 and is about to assume the throne that has been hers since her mother died when she was young.  Kelsea's life has been in danger since her birth, so she was raised in hiding by foster parents who have tried to instill the virtues they wish to see in a queen in her, but who also kept some massive secrets about the kingdom of Tearling from Kelsea.  So… Kelsea shows up at the capital and starts turning everything on its head.  She's untested, full of ideals, and many people want her dead.  And her first act as queen is to basically declare war on Tearling's powerful neighbor, Mortseme, ruled by the cruel, autocratic Red Queen.
This book started out rough for me.  Kelsea is kind of blah and unproven, but she says one sassy or smart thing and complete strangers start spouting praise for her, convinced she has the potential to be the True Queen.  After finding out more about Kelsea's mother, perhaps they are just happy she's not her mother, but since I didn't know her mother was a vain and silly queen, it came off as insincere, undeserved praise.  As the book goes on, however, Kelsea is tested and proves that she is courageous and capable of standing up for what she believes is right and just.  She is going to rule by her ideals, even if this poses a problem.  I loved this about Kelsea, though, I'm curious to see what happens when the Red Queen finally reacts to Kelsea's refusal to comply with her treaty.  Will Kelsea remain firm to her ideals when her country's very existence is at stake?
While character development is my favorite part of these sorts of series, fantasy also requires some world-building.  The Tearling world was not very well-developed in this book.  Best way I can describe the world is that it is set in a future that has reverted to a more medieval political and social structure and is probably set on another planet.  But that is not entirely clear in this book and I spent a lot of the early part of the book confused about when/where things were going down.  Basically, if world-building is a super important aspect of fantasy for you, I'm not sure you'd like this much.
The Queen of the Tearling reminded me a lot of The Girl of Fire and Thorns.  That series started out with a similarly sheltered, naive, unproven queen of whom I wasn't very fond at first.  But by the end, I was cheering on the heroine and totally wrapped up in the political intrigue. All that to say, I have very high hopes for the rest of Tearling series.  I am eager to see Kelsea become the True Queen and to bring justice and prosperity to the Tearling.