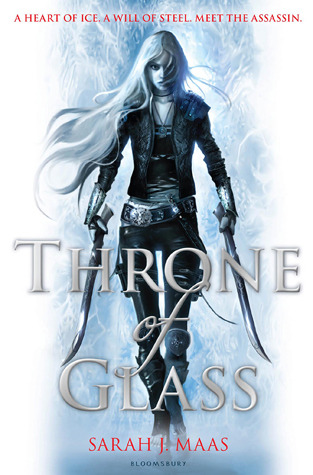 Celaena Sardothien is a renowned assassin, serving time as a slave in the salt mines of Endovier.  One day she is presented to Prince Dorian, who tells her he hopes she will be his representative in a competition hosted by his father, the king, to find the king's next champion.  If Celaena wins, she will be obligated to 4 years of service before earning her freedom.  Given that her only other choice is certain death in the mines, Celaena agrees to the bargain with Dorian and is brought to the king's Glass Castle.  The competition ensues and it becomes clear that Celaena has only one real competitor to worry about.  That is, until the champions start dying gruesome deaths at the hands of a mysterious creature roaming the castle.  In the midst of the competition and the murders, Celaena finds herself growing close to both Prince Dorian and the captain of the king's guard, Captain Chaol Westfall, perhaps even falling in love with them.
I have had very mixed success with the blogosphere's favorite YA fantasy series.  I did not like Shadow and Bone, but loved The Girl of Fire and Thorns.  So I went into Throne of Glass nervous.  It seemed like everyone loved it and there's not much worse than being the one person who just doesn't get it.  Well, sorry to say, I don't get Throne of Glass.
For one thing, the writing is excessively descriptive and flowery.  There are endless depictions of Celaena's dresses, people's glittering eyes, and Chaol's red cape blowing crimson in the breeze.  Maas tends to overuse color words to the point that crimson, scarlet, obsidian, raven, jade, sapphire become overworked alternatives to saying red, black, green, and blue.  It was just too much for me and I found myself zoning out during descriptive parts because they just weren't good.  I know fantasy is all about the details, but I don't know, I feel like Maas tended to give overwrought descriptions of dresses rather than putting words into describing the world or the events of the plot.
That brings me around to the second issue that I had with this book, which is that the plot is totally convoluted.  There are a million things going on– from the competition for king's champion to the murders to the love triangle to some political/historical/magical conflict and intrigue, but none of them actually have any impact on Celaena's outcome.  It is clear from the on-set that Celaena will win the champion competition.  It is clear who the bad guys are and that the murders are not an actual threat to Celaena herself.  It is clear that you will have to read the entire series to come to a resolution on the love triangle.  This book read like 400 pages of backstory, basically.  (And to think that there are actually prequel novellas…)
All that to say, there were aspects of this book that made me think there is probably more to this series than I got out of this one book.  There a things going on the background that I was truly curious about in terms of the history and politics and magic, which might become important later and which, if brought more to the forefront, would probably ensure an interesting and action-packed series ahead.  I also thought the love triangle was one of the better ones I've ever read.  Both guys are good choices, who are attracted to Celaena for her character, not just her beauty.  Also, Celaena herself was an interesting and unique character.  She's arrogant and bratty, can kick butt and take names, but also loves reading and shiny things.
At the end of the day, though, I don't have any desire to keep on with this series.  I think it suffers from too much detail, too much set-up, too much of a desire to tell us every little detail, while delivering nothing of real substance.