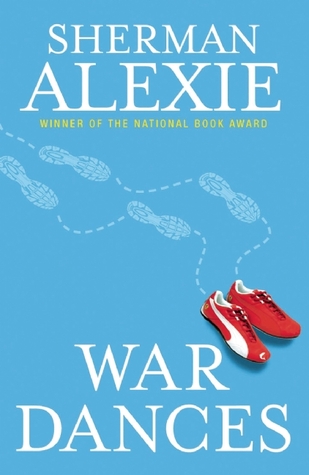 War Dances by Sherman Alexie
I chose to read War Dances to fulfill one of my Read Harder Challenge tasks– a book by or about someone from an indigenous culture.  I have read some of Alexie's works in the past and listened to him narrate The Absolutely True Diary of a Part-Time Indian, so when I saw he narrated this collection of short stories and poems on audio, I knew I would enjoy it.
What I liked:  I love Sherman Alexie's writing and narration.  As a whole, the short stories were funny and genuine and awkward and heartfelt.  There was always something in them that pushed the bounds of comfortable, but in a subtle sort of way, rather than being there as a shock tactic.  In one story, we have Paul Nonetheless, who is charming in spite of the fact that he is an awful father and husband– absent and adulterous.  I found myself rooting for him to hook up with the married Sarah Smile, even though he was pretty much the epitome of a sad middle-aged man with very little to redeem himself.  Another story features George Wilson, who has beaten to death a young black man who had broken into his home.  He can't explain why he snapped.  He doesn't really feel guilty, but he also doesn't understand why he killed someone.  He never thought of himself as a defender of property and while he acted in what is legally defined as self-defense, he's not really sure he was actually defending himself.  He was a sympathetic character, despite his grappling with being a killer.  I had previously read the story that involved a man in the hospital after his alcoholic, diabetic father had his feet amputated, but it was one whose tenderness resonated with me again.
What I felt meh about: My problems with this book mostly had to do with the audio production. The poetry didn't add anything for me and was hard to separate out from the short stories because it felt pretty prose-like. Also, there was hardly any pause between stories/poems and some of the stories were told in numbered parts and it was hard to distinguish between separate works some of the time. Perhaps this was intentional, but it was confusing and as much as I like Alexie's narration and think it adds something to the reading experience, I almost wish I'd had the print to refer to so I could see how the stories were formatted there.
All in all: I will always recommend Sherman Alexie's work and will probably read more of it in the future.  He writes with such insight, truth, and humor that I will always appreciate his stories.  I do, however, think I most enjoy him in more traditional narrative-style, longer-form short stories and novels, rather than poetry.