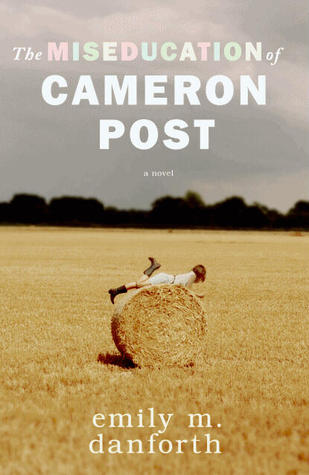 Cameron Post lives in small-town Montana in the early 1990s and is just discovering and exploring her attraction to girls when her parents die and her aunt, Ruth, moves to Montana to care for Cameron.  Ruth has different ideas of what is appropriate behavior for Cameron and is a bit bewildered by Cameron in general.  Ruth is more traditional and conservative and is very involved in her evangelical Christian church.  Cameron is able to coast and hide her lesbianism from everyone.  That is, until she meets Coley Taylor.  Coley and Cameron become friends, but their relationship is super-charged and intense and eventually it leads to some sexual experimentation.  However, they get caught and Coley blames Cameron for everything, insisting she's been seduced and manipulated.  Ruth sends Cameron off to a de-gaying Christian school, called Promise, out in the Montana wilderness.  Cameron goes into survival mode and has to decide for herself who she wants to be in the face of a system determined to eradicate part of her identity.
There is so much to like about this book.  Cameron felt like a well-developed and authentic teen.  She drinks, smokes pot, shoplifts, and experiments with sex… and with the exception of being shipped off to Promise, there aren't any real earth-shattering consequences for her rebellious behavior.  She loves movies, swimming, usually ends up being one of the guys, and is quite sarcastic, but there is always a feeling of isolation for her.  One thing that made Cameron different from some of the other LGBTQ characters I've read in YA is that she doesn't really struggle with coming to terms with her own sexuality.  She's attracted to women, not so much men (though she does give kissing a boy a half-hearted try), she's a lesbian and that's the end of that.  For Cameron it is much more a struggle with the outside world and being able to present her true self, sexuality and all, to other people.  In a way, she has a bit more freedom after being sent off to school… her actions and feelings are out in the open and she is able to make friends with a few people who are happy with the whole package.
Not to excuse the reprehensible goal of Promise, but this school wasn't really what I expected it was going to be.  It was portrayed with a lot of nuance… it's not a clear-cut horrible place, nor is it the cure that its leaders hope it is.  The intentions of the school's leaders, Lydia and Rick, are not evil.  They really believe they are saving their students from a worse fate if they change them and they aren't abusive or neglectful.  Perhaps the best way to see Rick and Lydia is as misunderstanding.  They want to help, but approach it in a way that fundamentally misunderstands the nature of homosexuality.  There is a lot of therapy and pseudoscience, which of course can be dangerous, but Cameron is strong and finds a way to stand against it, while complying with the rules and keeping herself afloat.  An awful way to live, for sure, but I think there are parts of the therapy and self-reflection that were beneficial to Cameron, whose grief over the loss of her parents and anger with Ruth and Coley need to be addressed so that she can move on.  At the same time, the message of the therapy and the school is that there is a part of Cameron's identity that needs to be eliminated or changed and while Cameron doesn't really question who she is in the face of it, it does take its toll and wears on her.  We see the harm the school can do much more in Cameron's classmates, who believe that who they are and how they feel is sinful and that they must change who they are at the core in order to be accepted by God.
Another highlight of this book was its setting– both in time and place.  The events of this book didn't take place that long ago (1992), but it is amazing to see how different Cameron's experience is than the experience of LGBTQ characters whose stories take place 20 years after her's.  There is no coming out in high school in the 1990s.  There is no wide cultural acceptance of homosexuality or gay marriage.  And it's not to say that attitudes are completely different now, but for Cameron, there is no real choice except isolation, fear of discovery, and lack of acceptance, particularly in her small, conservative town.  I also really enjoyed the Montana setting, from the dusty cowtown where Cameron grows up to the mountains and woods in western Montana, where Promise is located.  Quake Lake, a lake formed by an earthquake in western Montana, plays an important role in Cameron's family history and becomes a powerful image in the story.
My biggest complaint with this story had to do with its pacing and length.  It takes over half of the book for Cameron to be sent to Promise and I think a lot of Cameron's early history could have been cut out without hurting the overall story.  At the same time, most of the story is slow, detailed, and drawn-out, but the ending came very quickly and left so much unresolved.  I really wished that the story began when Cameron met Coley and that the ending would have been fleshed out a bit more, giving us some idea what happened to Cameron after Promise.
All in all, I feel like this is a book that will stick with me.  Cameron is an admirable and memorable character in YA.  I liked danforth's writing and would happily read another book from her, especially if she sets it in the West again.  It's a story that gives you a lot to think about and even if it was too long and slow, is one I'd recommend to those looking for a good LGBTQ/coming of age story.